Looking for Products and Suppliers
If you want to find a product, or the suppliers who produce that product, you can either use our search function or browse by category.
Browsing
Click the "Buy" tab on the main navigation bar on any page.
You can browse the extensive product categories to find whatever you want.
Use the filters above the listing to refine your browsing.
To see our product categories,
click here
Vertical Search
Enter a product name in the search box and click search.


Refine your search results by Manufacturing Region, Main Export Market, Business Type, Contract Manufacturing and much more. Click the Arrows (More Options) in the top right to find more options for refining your search


When you select a refinement, it will be shown at the top left of the Refine box.

You can remove a refinement by clicking the next to a selected refinement

After selecting a country or region, you can choose to show results posted by verified members only. For Greater China, check the "Show Gold Supplier Only" option. Gold Supplier is our paid membership for Greater China.
Search Tips
To refine your search results, use the filters list on left side.
If the results are unsatisfactory, reduce the number of words (e.g., "bicycle framework" instead of "carbon bicycle frame work").
Avoid keywords which are too specific or specialized (e.g., "4X4 Honda ATV")
Only search for one product at a time.
Don't include a country/region's name in your search (e.g., "shoe China").
Don't include the word "buyer" or "seller" in your keyword phrase (e.g., "shoe buyer").
Refine Search
When using the search or browsing by category, you can also use "Refine Search" on the left side to narrow your result(s).
Different selling information types have different refinement options.

Select Date
This helps you narrow your selling lead results by posting date.



Recent History
Use "Recent History" on left side to easily find previously-viewed products, selling leads, companies, categories and keywords.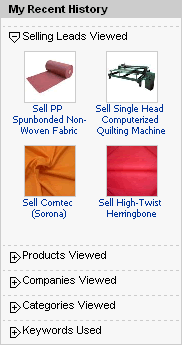 The "My Recent History" function helps you keep track of products, selling leads, companies, categories and keywords you've recently viewed. Since your browsing habits change frequently, so does your recent history. You can also click the "
" button to display this feature or click "

" to hide this feature.
Get More Accurate Search Results
Use quotation marks (" "): For exact results, use quotation marks (e.g., "ac adapter"). If the results are unsatisfactory, try again without quotation marks (e.g., ac adapter).
If you encounter any problems during browsing or searching, please visit our
Frequently Asked Questions
for a solution.